Meet us. Our guest house is located in beutiful, and quiet place on suburb of Poysdorf. It is a place for young and old, we organize out for the parties, sight seeing, sport and tourism. We offer room under roof, apartment and two romantic rooms with a lot of free space.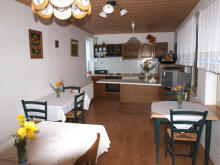 Our room under roof is the best place for families with four kids, apartment with own kitchen and separetad entrance, romantic rooms are the best example's of feel good in our house. All prices include breakfast . Our rooms are available for guest all the time.

We speak in languages german, english and polish, the languages help us to understand our visitors. For all rooms, dining room available.

Complete list of equipment available here. For all vistors we offer fish pound, bower with barbecue, for summer evenings. Large garden, and parking places.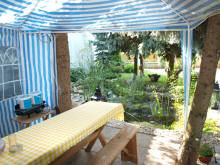 For cyclist we offer free rent of bicycles, people with pets are welcome.

In summer time, small lake it is a ideal place for people who love it. Great place is nearby lakeand church of Marii Bründl. Vineyard are easy available, you can walk or ride on bicycle, nearby is golf field, by walk is 15 min.

If you want to know more or book room, call or E- mail us. Our contact here.
Tel. +43 664 46 40 564 ; +43 664 46 40 565